Two are better than one -- and a cord of three strands is not easily broken.





Twee zijn beter dan een -- en een drievoudig snoer wordt niet snel verbroken.

(Ecclesiastes / Prediker 4:9a,12b)

Come and Celebrate!
With the newlywed couple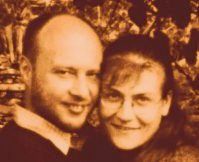 Peter & Kelly Passchier
You are invited to an Afternoon Tea Reception
on Sunday, September 7, 2003 from 2-4 pm
at St. Barnabas Church Hall
635 4th Street SE, Medicine Hat
www.stbarnabasmedicinehat.ca
RSVP by August 31, 2003
phone: Martha Munz Gue (403) 526 2226
email:

As we are currently training for overseas mission work and our future plans&needs are yet unknown, we do not want to accumulate many possessions. So, no gifts are expected -- your presence will be your gift to us!