- Engagement -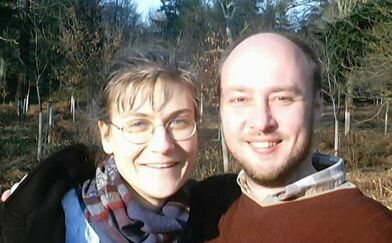 Peter&Kelly
... of Kelly Elizabeth Jane Marshall from Vancouver, Canada, and
Pieter Izaak Johannes Passchier from Groningen, The Netherlands.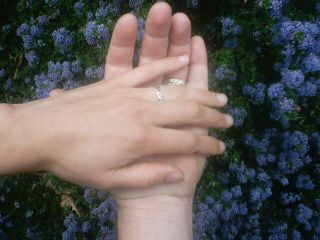 Hands with the rings

We are so pleased to announce our engagement and have you share in our joy! It happened in Wales on April 14, 2003... We were on holiday (just North of Cardigan on the West Coast) with come classmates from college and had gone for a walk in the late afternoon sunshine while our friends made dinner. We explored a secret garden on the farm where our cottage was, strolling down the paths, enjoying the flowers and each other's company. At some point we passed through an ivy covered archway in an old stone wall that led into an inner garden. It was there, sitting on a wooden bench by an old stone wall in the golden afternoon sunshine, looking out at a lovely blossoming cherry tree, that Peter asked Kelly to marry him. He didn't get down on one knee though... because his knees were occupied by a lovely girl! It was a rather spontaneous moment so there were no rings involved at this point. Our friends gave us some adjustable kids' rings with dolphins on them to stand in -we had seen dolphins that day!- until we could find rings.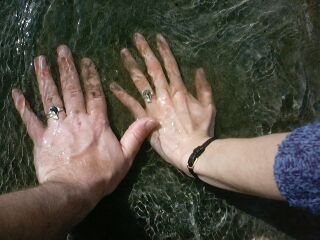 A pair of dolphins

About a week later, returning from a walk along a gorgeous cliff-side coastal path, we found the engagement rings we had been looking for: two rings of a similar braided pattern. We are mixing the Dutch and Canadian traditions a bit with the result that we both have engagement rings and will both receive wedding rings too. The wedding is set for August 23, 2003 in Vancouver, Canada, with a second church celebration to follow in Groningen, The Netherlands on September 19, 2003. You are welcome to celebrate with us in either (or both!) church celebrations.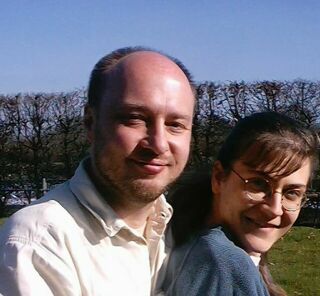 Before our engagement...

It all started at All Nations Christian College in September 2002 when Peter started his BA course in Biblical and Intercultural Studies. Kelly had already been studying there for one year, in the same programme. We were assigned to the same project team that meets weekly and so had regular contact in a working environment. We also moved among the same circle of closer friends and so had regular contact in a social environment. Early discoveries of similar interests led to long conversations every now and then, a few walks around the lovely English countryside, and praying together - all of which allowed for the friendship to develop. However, it wasn't until the spring time, when the flowers began to bud, that we also began to realize and admit that there was more interest for each other stirring in us. Finally our hearts had a chance to say something in the midst of our minds' rationalisations and we took the step into a closer, more exclusive relationship. That was March 9, 2003, to be precise. Since then, apparently our faces have been beaming and we have been walking with an extra spring in our steps. We have even been accused of floating on the clouds! Already we have been incredibly blessed by each other, but above all by the Almighty God, who took care of everything. He, who is able to do immesurably more than all we ask or imagine, according to the power that is at work within us (Ephesians 3:20)!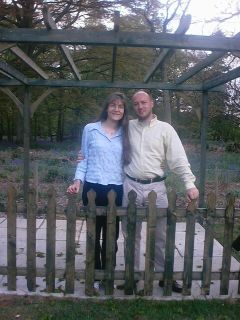 After our engagement!

Thank you for sharing in our joy!

All the best&God bless,
Peter&Kelly

P.S. If you would like to see more of what we are up to, please investigate http://www.passchier.net.
We hope to have an English version translated soon!